Office Space Bishopbriggs
---
---
It's important to separate your home life from your work life. While the modern age has made it seem like we have to be available to work 24/7, that's not the case. If you are unable to allocate yourself time away from work, it takes a toll on your mental health. While working from home sounds great in theory, it does make separating home from work difficult. if you live in your workplace, when does the work stop? Never. Over time your hours start to stretch longer and longer and even your weekends start to take a hit. Our office space in Bishopbriggs will stop this from happening. Having a place to separate your work life from your home life will improve your mental health. This is because it gives you much needed free time.
Why work from our office space in Bishopbriggs?
Unless you have extremely strong will power, working from home is difficult. For one, there are distractions everywhere. If you have a dog, cat, children or family around; odds are that you're gonna want to spend most of your time with them. That's fair, but you do also need to allocate some time to get some work done. It's harder to do this when you haven't got a separate workspace to go to. While we do love our family, friends and pets, it is nice to have an office to escape to. Absence makes the heart grow fonder. Having an office to complete your work in means you can enjoy your free time without the guilt of knowing you have work you could do. You can leave it behind in your office and not worry about it.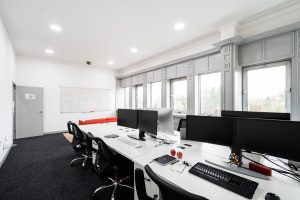 Our office space in Bishopbriggs provides you with that external space to work in, without the other worries owning an office can bring. When you own your own office, you need to maintain the facility. Anything that goes wrong with the office space, you need to deal with. However, that's not the case when you rent an office with Covault. You come to a fully furnished office with kitchen facilities, toilets and a break area included; without worrying about maintenance or building management.
Maybe you're not looking for traditional office space in Bishopbriggs. If you're an artist or designer and need a different type of workspace, we have those on offer as well. Covault also offers a range of light industrial spaces for clients to rent and work from. If you want to work from home but still need some of the benefits of an office, we do also offer a virtual office service. With a virtual office, you can utilise a city centre address for your business so you can keep your privacy. You'll also have access to our mailboxes and get reduced rates on our meeting rooms. Sometimes even the smallest bit of work and home separation is all you need. No one wants to give their clients their home address. Our virtual office means that you won't have to.
No matter what type of office space in Bishopbriggs you opt for, all of our spaces offer a flexible payment plan. We offer clients monthly rolling contracts as we know the needs of a business change over time. Please get in contact if you'd like to book a tour or get some extra information.
If you're no longer in need of a rented office, but still could use some extra space; why not consider business storage?
---
---